This article details how to connect Smoothbook and Zoom. If you would like details on configuring Zoom instructions in your emails and retrieving Zoom meeting join and start links, please click here.
For information on uninstalling your Zoom app, please click here.
Smoothbook integrates seamlessly with Zoom – a popular service for creating online meetings and webinars. What this means is that you can designate any or all of your services to take place online: as soon as one of your customers books one of those services a meeting or webinar for that time will be created in Zoom.
Please note that your customers will receive a join link for the meeting or webinar but will not be added as registrants to your Zoom meetings or webinars. You can view and manage your attendee list in Smoothbook.
As soon as a meeting has been created in Zoom an email will be sent in the confirmation email to the customer with a joining link; emails will be sent to organisation owners and resources with a link to start the meeting. In addition your customers can retrieve the joining link from the booking calendar; organisation owners and resources can retrieve the starting link from the Smoothbook dashboard.
It is quick and easy to integrate your Smoothbook setup with Zoom, please complete the following steps:
Authorise Smoothbook to create meetings and webinars with Zoom
Please select 'settings' from the main menu and then click on the 'APIs' icon:

On the APIs page scroll down to where it says 'Zoom Integration' and click the 'Connect Zoom to Smoothbook' button. This will launch a mini-browser window, simply click on the 'authorize' button at the bottom to connect Smoothbook with Zoom. You will see a success message once this is done.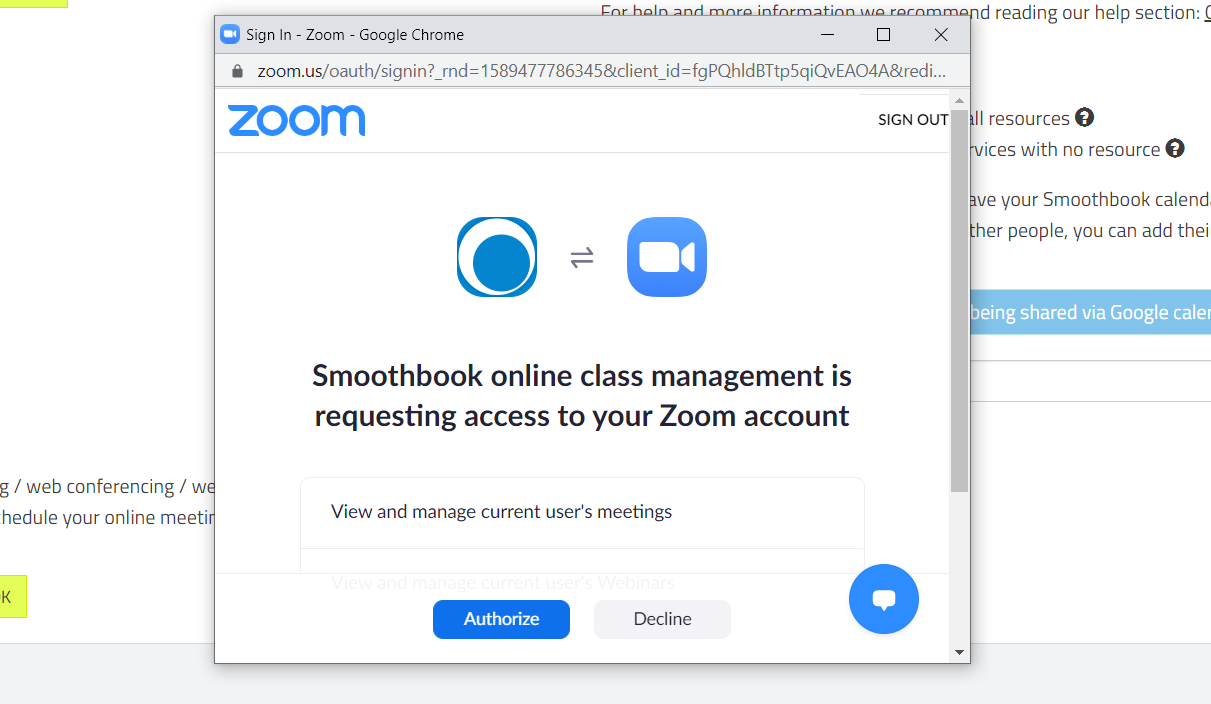 Configure your services to create meetings or webinars with Zoom
By default your services are not connected with Zoom: online meetings are not created by default. You need to specify that a service should be connected to Zoom which is quick and easy to do.
Select 'settings' from the main menu and click on the 'resources and services' icon. You will see a list of resources and services and an icon denoting whether the service is connected with Zoom. You want to click 'edit' next to the service you want to add to Zoom.

Scroll down the edit service page and you'll see a section labelled 'Zoom integration'.

Simply check the checkbox 'Create online meetings or webinars in Zoom for this service' and then select whether you'd like to create a Zoom meeting (everyone in the meeting can see each other) or webinar (attendees can only see you).
Save the service and you're done!